Head Instructor and founder of Gorilla Combat LLC, established in 1998
– Muay-Thai Boxing (Level 8-Black Belt/Red Instructor ): 22 years experience with amateur and professional bouts

– Boxing (USA): 14 years experience with amateur bouts
– Situational Awareness Forced Protection and Escape  / Haganah Combative Tactics (level 2): 8 years experience /
Caleb has competed in Pro and Amateur Muay-Thai Boxing and Boxing matches in Amsterdam and in San Francisco. He has been professionally trained in Muay-Thai, Haganah (Self-Defense Applications & Tactics), and Boxing. Muay-Thai Boxing, Boxing and Self-Defense / Combatives are his training specialties. He instructs non-competitors (public), amateurs and professional fighters. He also conducts self-defense and protection workshops for women, men, the traveling professional, corporate and non-corporate as well schools, organizations  and other special groups.
Muay-Thai Level IV Instructor
My goal as a Muay-Thai instructor is to make sure that everyone in my class utilizes proper form, gets a great workout, and has fun doing it. I believe that if you learn Muay-Thai techniques correctly from the start, you will have a solid fundamental base that will follow you all through your martial arts training. The techniques that I have learned over the years have given me the confidence to be proud of who I am and what I have accomplished.
With this knowledge and skill set you will know more than the average person on the street. That being said, it is extremely important to me to instill confidence, not arrogance, in my students.
Always be prepared to work hard, have fun, and leave with a smile.
Qualifications:
– I am trained in Muay-Thai Kickboxing and Boxing.
– I have been training at Gorilla Combat since 2006 and teaching since 2008.
– I have trained in Brazilian Jiu-jitsu and currently am a blue belt.
Lead Brazilian Jiu-Jitsu Instructor
A former Marine, Mark has 19 years of martial arts experience in the varied areas of Karate, Tae Kwon Do (TKD), Kickboxing, Brazilian Jiu-Jitsu and submission grappling.
Mark has participated in multiple TKD and grappling tournaments, as well as in amateur Muay-Thai and Mixed Martial Arts (MMA). He is currently 1-0 as a professional MMA fighter. Mark is a Purple Belt in Brazilian Jiu-Jitsu under Fabio Morescalchi Black Belt.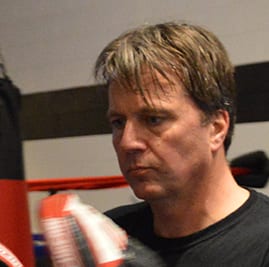 Instructor:
Russ Youngquist: Muay-Thai Boxing
and Boxing. Brings 17 years of experience.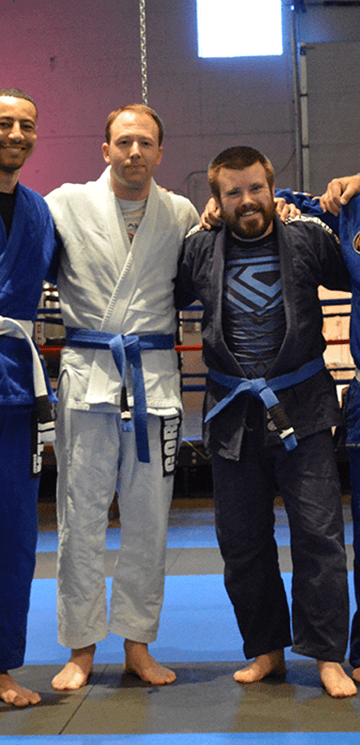 Instructors:
Josh Lantz: Brazilian Jiu-Jitsu Blue Belt
Brent Ripka: Brazilian Jiu-Jitsu Blue Belt
This is a text block. Click the edit button to change this text.